Cities play a key role in enabling and fostering sustainability transitions. Cities are the places with an increased urgency for change, but they are also the 'hubs' in which many sustainability initiatives, movements and activities emerge and evolve. Actors active at city level in different sectors (e.g. municipalities, NGOs, businesses and civil society, etc.) play a vital role in accelerating sustainability transition processes. This is why it is key to facilitate learning processes that support city makers to learn, connect and support each other. 
Between September 2020 and January 2021, we have been organising and facilitating the peer-to-peer learning programme TOMORROW Energy Transition Relay with the aim of empowering city makers to facilitate transition governance processes towards sustainable and just transitions. The learning programme was set up to support participants to learn from pioneer cities and to adapt transition governance concepts, tools and practices into their own contexts. 
Around 30 participants, motivated to accelerate the sustainability transition in different cities around the world, actively engaged in the learning programme. The Relay included a number of learning activities such as four webinars, an online workshop, peer-learning groups as well an online Community of Practice. Multiple speakers from TOMORROW cities and other pioneer cities have been involved in the Relay to share their experiences. 
All participants came to the learning programme with a learning question and a case to integrate their lessons learnt into practice. As part of the learning journey, the participants were encouraged to learn from each other  as much as possible. For this reason, they were divided in peer-learning groups of  5 to 6 people, based on their learning questions, goals, and backgrounds, so that they could continuously support each other. 
All learning sessions included theoretical inputs and practical examples. Plenary sessions have been balanced with interactive group sessions in which participants could apply tools to their contexts or reflect and discuss specific topics. All sessions also included some fun and informal exercises to make the online experience more engaging and connecting. After every online session, participants were encouraged to apply their learnings into their own cases, for example by using specific tools and methods.  
You can find a short summary of the online activities below. 
Webinar#1 Introduction & learning questions
During the first introductory webinar participants of the TOMORROW Relay could get to know each other, further deepen their learning questions and learn more about the TOMORROW project and the Relay programme.  After an energizer and an introduction of the overall learning programme, they had the opportunity to share more about themselves in small groups. As part of the webinar, another interactive exercise has been organised to support the participants to further define their learning questions. 
Online workshop on transition governance
During the first workshop, participants were introduced to the basic concepts of transition studies and transition thinking. The second part of the workshop consisted in an interactive presentation on transition governance. This included several operational steps that can be taken to launch and guide a transition process, such as performing a system and actor analysis. Learnings from the TOMORROW project were highlighted to show how transition governance has been applied by six different european cities to foster climate action.
We want to create a local dynamic in favour of the energy and climate transition for achieving the objectives of the Paris Agreement - Anne-Claire Urvoas, Brest Municipality
For example, Anne-Claire Urvoas explained why  the city of Brest joined the TOMORROW project and presented their goals and ambitions: 'We want to create a local dynamic in favour of the energy and climate transition for achieving the objectives of the Paris Agreement'. She described how they set up the Brest transition team, responsible for the implementation of the transition roadmapping process. Insights on the action plan developed so far, as well as the actor mapping were also shared. The Brest transition team is planning to engage multiple actors from business, civil society and academia with the aim of initiating the participatory process and promoting citizen action. 
Directly after this session, a reflection/reaction moment was dedicated to stakeholder meetings and participatory processes, including challenges faced and ways of addressing them as well as sharing some experiences and examples. A common struggle was brought to light on the impact, outcome, and output of stakeholder meetings. Ensuring that these meetings bring about change or contribute to the overall goal was perceived as a challenge by some participants. Others mentioned the importance of finding a common language, especially a 'simple' language for citizens when it comes to the technical aspects of energy.
The last session revolved around methods that can be used for transition governance such as system and actor mapping tools. Participants were asked to use one of these tools in their context. 
Webinar #2: transition roadmapping
During the second webinar, two representatives from TOMORROW partners, Dublin and Valencia, presented the process of transition roadmapping they developed so far. According to Suzanne Fitzpatrick from the Dublin team 'it's not just about kilo-watt hours or tCO2 but we need a fundamental change in our cultures, structures and practices'. Suzanne explained that so far the transition team had identified the actors to be part of the transition community and that they had developed a work plan to create the Dublin Transition Roadmap.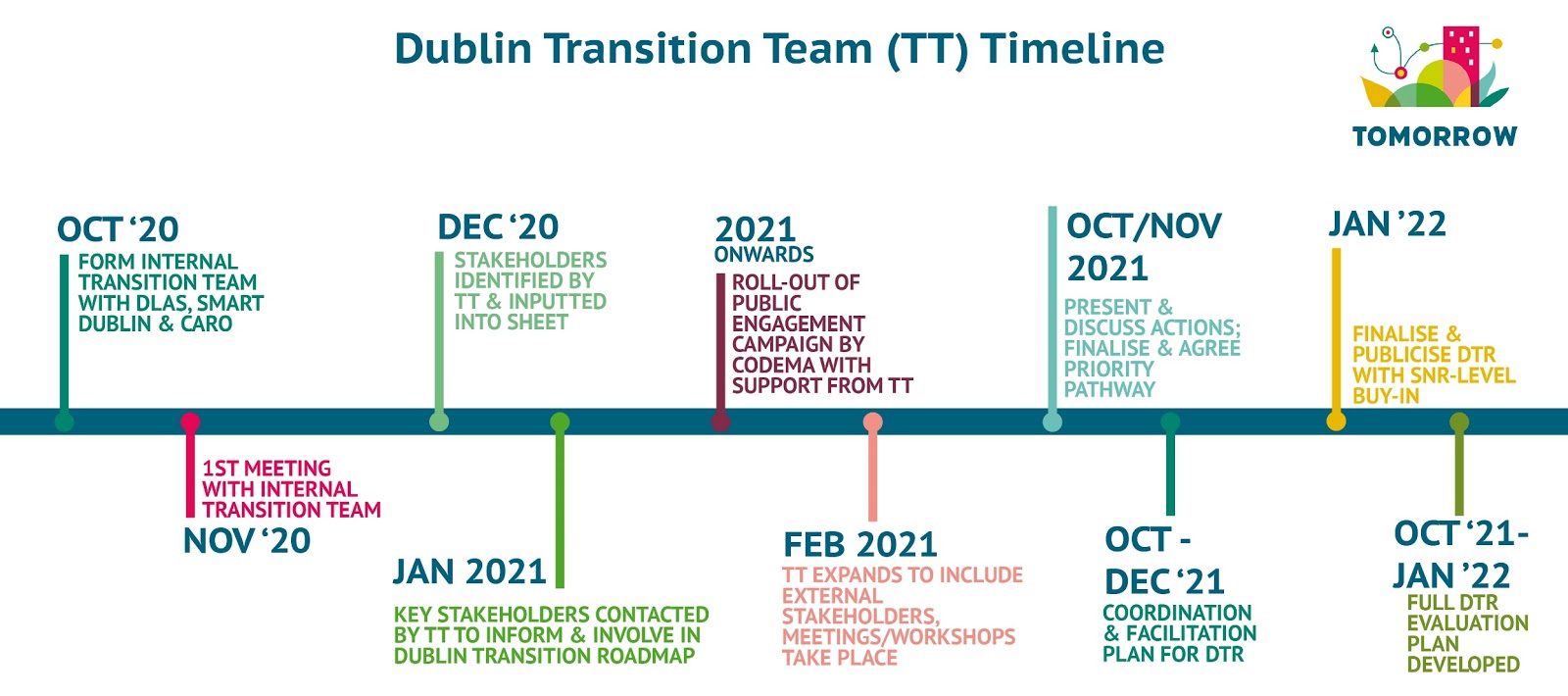 The four pillars that will guide Dublin's energy transition are community, commitment, collaboration and communication. Some of the main activities planned by the Dublin team are to implement a tailored marketing strategy to recruit actors, awareness-raising actions to communicate the reasons for the need for a transition, as well as Dublin 2050 networking sessions to learn, share, act and replicate. Citizens' engagement is considered a key for the success of the overall process. For this reason the transition team planned to organise public engagement campaigns, local citizens' assembly workshops and they are giving a lot of importance on building on existing initiatives (e.g. sustainable energy communities, Green Clubs initiative, home energy saving kit, etc.). 
Alejandro Gómez from Valencia's Transition Team gave insights into their action plan for the implementation of the 2050 roadmap. Alejandro explained the process of developing the transition team that involves both an internal city council commission but also a number of actors from outside the local authority. He also shared how the transition team had started the citizens engagement's process by for example organising a number of (online) events and activities. The team is also taking seriously into account how to embed the transition roadmapping process within the local context such as by integrating it into the SECAP and the 2030 urban strategies and by establishing a 'control panel and evaluation plan' to monitor how the roadmap's actions are implemented into practice. 
Webinar #3: stakeholder engagement
During this webinar, different possible levels of participation of actors or stakeholders (inform, consult, involve, collaborate, and empower) were presented and discussed. During the break-out room exercise on multi-actor engagement processes, many noticed that too often there is an insufficient understanding of the goals of participatory processes. In addition, it is important to define the level of involvement requested for the different local actors:some could be key players and be involved during the complete process, and others could only contribute or be consulted on specific issues. This depends on their interests and influence in the transition process. Participants should feel engaged, informed, and included in the process and their contributions should be  valued by the transition team (and other participants). 
Webinar #4: inspiration
The last webinar of the Relay included an interactive session with Henrik Johansson, environmental coordinator for the city of Växjö, Sweden. Växjö was one of the first cities in the world to declare its intention to become fossil-fuel free.
In the second part of the webinar, Relay's participants had the opportunity to present their learnings as part of the learning programme and to share how they have been applying their lessons learnt into practice. Four participants from various parts of the world (México, Germany, Italy, and Romania) working in different sectors took this chance.
One participant described their stakeholder mapping process for which they used the TOMORROW workbook as a base, for a project in which they try to help local governments promote the energy transition. They identified 144 stakeholders (13 international, 58 national, and 73 local actors) that can and should be involved in the process, and categorized them by sector, area of influence, and function. According to another participant  thanks to the Relay they will start an internal discussion within their company on the importance of citizens participation and social aspects of the energy transition. One of the municipality's representatives  shared that they will use the learnings from the Relay to create a municipal energy company.