In the city of Leuven in Belgium, over 500 public organisations, businesses and citizens  united behind a roadmap towards zero-carbon emissions in 2050. In 2019, that roadmap was officially ratified and adopted by the local administration. The six pilot-cities of TOMORROW visited the city and learned how Leuven is spearheading this new governance model.  
Katrien Rycken is not afraid to admit it: "It was complex: many different parameters had to be aligned".
Still, it is easy to feel a jolt of excitement when listening to the spirited coordinator backtracking their remarkable journey. Her non-profit Leuven2030 sparked, and now manages, Leuven's Roadmap towards becoming climate-neutral (see 2025|2035|2050). Rycken's audience hangs on her every word: as representatives from their cities - Dublin (IR), Valencia (ES), Brest (FR), Mouscron (BE), Nis (SER), and Brasov (RO) - they are responsible for creating their city's decarbonisation roadmaps: Through participation in the Horizon2020 TOMORROW project they are supported in realising this by Energy Cities and the Dutch Research Institute of Transitions (DRIFT). 
How did Leuven get here? And how can other cities follow suit? Rycken highlights three crucial lessons: Unite behind the science: but shift roles, Move from dark green to mainstream, and Pave the road for implementation. All the while, and despite the progress that has been made, the - roadmap's future remains a topic of discussion.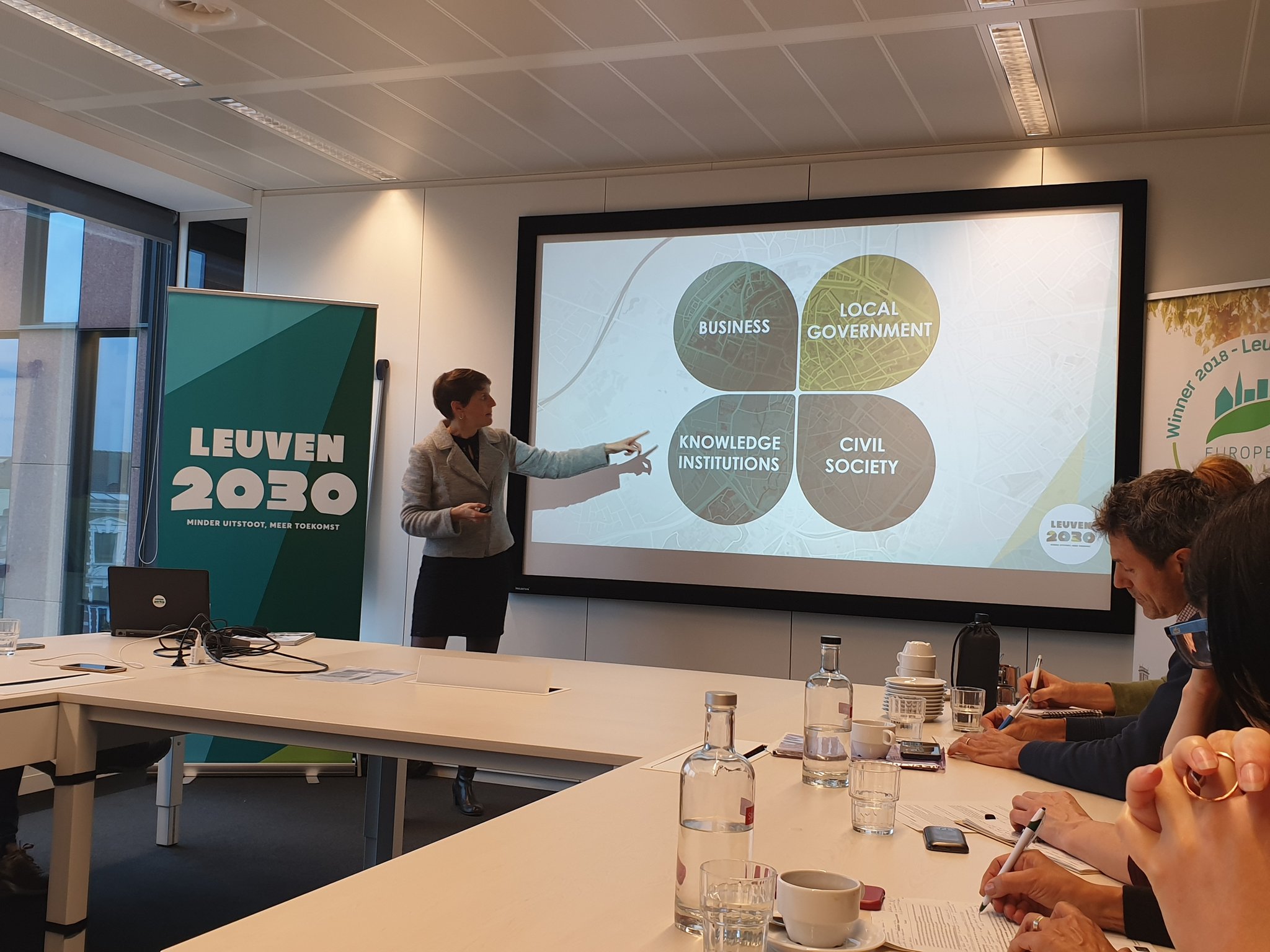 1. Unite behind the science: but shift roles 
"Unite behind the science": it is a phrase planted in our collective consciousness by climate activist Greta Thurnberg. While Leuven had already signed the Covenant of Mayors in 2011, pledging a 40% CO2 reduction by 2030, it was clear not much was happening to achieve this target. 
The University of Leuven published a report in 2013 called 'The transition to a climate neutral Leuven in 2030'. Taking the IPCC climate science as a starting point, they devised scenarios for achieving climate neutrality. After the report was published, a coalition of local government, businesses, university,  and civil society established the non-profit Leuven2030. The university's report was their guiding document. They agreed that Leuven, as a relatively wealthy student town, had the right cards and moral obligation to be a pioneer in becoming climate neutral. The science in the report was unmistakably clear: action is needed - now.
In its report, the university urged the city government not to sit behind the steering wheel alone. Rather, they advised shared ownership and responsibility between business, local government, civil society, and knowledge institutions. Rycken argues that this shifting of roles has been a crucial success factor for the roadmapping process:
If the government would have fully taken control, some businesses and organisations might have turned away. 
The collaboration with academia continues today. A group of scientists meets regularly, on a voluntary basis, to monitor the process of implementation. Rycken emphasizes that scientific monitoring and evaluation are key: emphasising their scientific foundations supports Leuven2030's message of sustainability being a non-partisan issue. Pro bono involvement of citizens through their professional knowledge and expertise is also a piece of advice Ryken promotes: she advises the TOMORROW pilot cities to use it to their advantage. 
2. From dark green to mainstream
Rycken recognises that Leuven2030 was not a diverse group of actors from the get go. In fact, the core group started from a 'dark green' perspective, advocating radical political change. Since then, efforts have been to incorporate a diverse set of opinions and views.
Ryken: "Our aim is to be in the middle of community;  everyone should want to be part of this movement. Achieving that is a continuous exercise of equilibrium." 
From museums, schools, financial organisations, engineering firms, social housing institutions to individual citizens: each of Leuven2030's 500+ members has a different reason to join. Such diverse involvement is important, not only to reflect public support, but also to shine light on issues of social justice. Ryken gives the example of a building renovation project in which some occupants moved after a personal investment was required to fund climate proof renovations. 
Mainstreaming support for the roadmap inherently deals with conflicting interests. Involving farmers on the issue of a  food transition was complicated, as one paragraph mentioned a need for a lower consumption of red meat. Nevertheless, getting the farmers on board was imperative, as they have a huge impact on transition, and the transition will tremendously affect them. 
Ryken stresses the importance of storytelling to get the importance of a roadmap and climate neutrality across. For that purpose they collaborated with a storytelling agency, who helped them create a communication strategy. Peer-to-peer campaigning is key: rather than learning about the roadmap from the Leuven2030 communications team, Leuven's citizens learn about it from their neighbours, colleagues or local shopkeepers.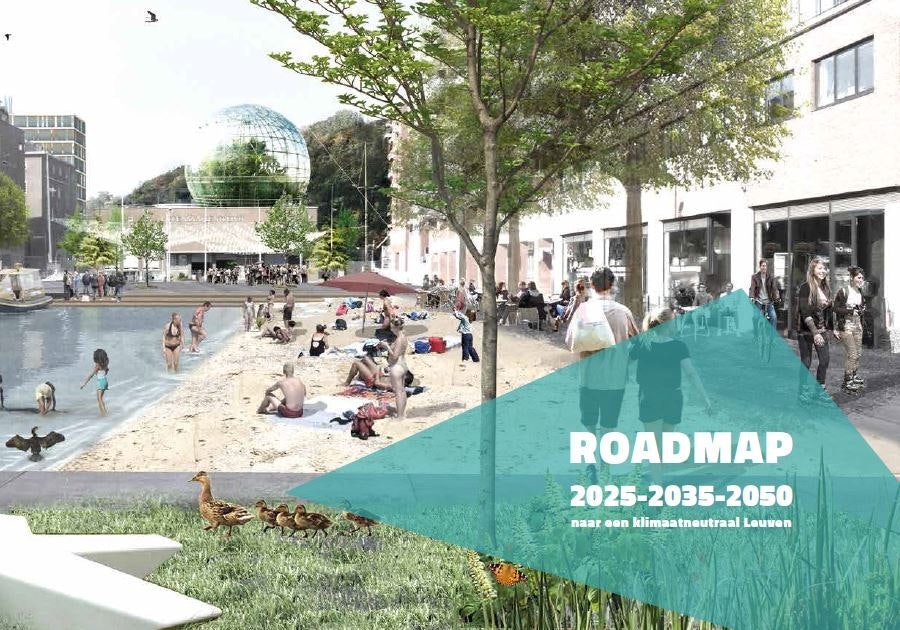 3. Pave the road for implementation
Ever since a new city council took office in January 2019, climate neutrality is central to the city's ambitions. The implementation of the roadmap however, is still managed by the non-profit Leuven2030. Every six months, Leuven2030 organises a General Assembly for its 500+ members, where the members vote on the actions of Leuven2030. 
The roadmap implementation consists of 13 programmes, which are led by programme facilitators, funded and seconded by member organisations. The programmes cover the topics of buildings, mobility, renewable energy, sustainable consumption and greening the city, but also transversal issues such as governance and financing, inclusivity, and learning and monitoring. To design the programmes, Leuven2030 applied systems thinking (read about it here), in an effort to design projects targeting leverage points in societal systems, to generate high impact. 
While the first year of the implementation focussed on strengthening bottom-up initiatives, they are now moving towards a more top down approach. How this will be organised while remaining connected to bottom-up enthusiasm and engagement is a question that will be closely monitored. The design of the implementation is continuously adapted.
Ryken admits: "That is tough about what we're doing; everything is always changing, we never have a solid base."
While the roadmap is a fixed point for now, it is also not definite: in two years it will have to be updated as well. 
Overcoming roadblocks 
A main roadblock remains financing the implementation. Initially, Leuven received a lump sum from the European Investment Bank. Now, they are re-evaluating ways to attract the necessary capital. If anything, it is clear that to finance the transition, local revenues streams and capital will need to be tapped into as effectively as possible. 
While the roadmap is meant to defy short termism and four-year policy cycles, the outcome of elections remains a variable that determines the success of the roadmap's implementation. Besides, despite the city council's support, there is no 'policy checklist' yet, which guarantees new policy to aligning with the roadmap's goals. Other points of contestation concern opposition against the shifting of roles, social justice issues, and the lack of pace in reducing greenhouse gas emissions. 
One example that illustrates the difficulty of accelerating mitigation efforts comes from the case of residential and non-residential buildings. Whereas these account for an estimated 60% of Leuven's CO2 emissions, the current renovation rate only covers 1% of the building stock per year. Meanwhile, the roadmap states a target of at least 3%. Such discrepancies between reality and targets in the roadmap need to be actively addressed in order for the roadmap to remain relevant.  
The coming two years will prove crucial for the development of Leuven2030 and the implementation of the roadmap. Despite the growing pains, Ryken assures us that Leuven2030 is also thinking ahead: the next step is scaling the roadmap up regionally. 
This blog is part of a series of energy diaries, tracing the TOMORROW pilot-cities around Europe to learn about roadmaps for decarbonisation: from Leuven (BE), Nantes (FR) to Heerlen (NL). Watch this space for more updates...