In April, TOMORROW cities were supposed to meet in person in Heerlen, The Netherlands, to attend a conference and a workshop on Energy Transition. Even though all in person meetings and travels were cancelled by the COVID crisis, TOMORROW cities kept learning from each other and they met virtually by participating in two online workshop sessions organised by DRIFT. One of the sessions of the workshop, called "Learning from each other and building resilience in difficult times", aimed at supporting exchange of experiences among cities on their challenges and resilience strategies in the current COVID-19 times. Each city team shared a short presentation followed by a Q&A. In addition, city teams were divided into "virtual groups" to discuss the risks and potential "openings" brought by the COVID crisis. The group session was then followed by a final plenary discussion. In the following months, we will share with you some of the main insights, inspirations and lessons learnt from this and other online sessions. 
The COVID crisis has been reinforcing already existing social inequalities and socially unjust patterns in our society. Only a small part of the population could work from home, others were forced into holidays or unpaid leaves or lost their jobs. In certain countries, the support from the government has not been enough to economically sustain families and individuals. The COVID-19 outbreak has been particularly detrimental to members of the most vulnerable groups such as people living in poverty, elderly persons, persons with disabilities, youth, and indigenous peoples.
Some studies indicate that the health and economic impacts of the virus have been higher for poor people. Homeless people, for example, are more exposed to the virus because they are unable to find a safe shelter. People without access to running water or energy, refugees, migrants, or displaced persons have been also extremely affected by the COVID crisis. Unequal access to technology has prevented educational equity. Additionally, the pandemic has also increased other problems such as domestic violence. Feelings of loneliness, depression, and other mental issues have also been increasing.
At the same time, the crisis brought attention to the importance of access to public services such as health care, education, housing and energy. In order to address these problems many citizens, organisations and local authorities have been initiating solidarity initiatives and socially innovative projects.
Building on solidarity and social innovation initiatives
Some residents have been very creative in finding new ways of supporting each other. In Italy, for example, the local initiative "Spesa Sospesa" ("Suspended Groceries" in Italian) allows you to buy extra items that are set aside for people in need. An overview of initiatives set up to address the consequences of the crisis can be found here.
Many emergency measures have been implemented by governments and local authorities to protect vulnerable citizens: the Spanish Government for example set up a number of emergency measures including subsidies to address energy poverty. As mentioned by a team member of the Valencia team: "This is an example of what can be done in times of crisis and it is important to communicate that we can apply these measures also for addressing another important emergency: the climate one". Addressing the COVID crisis should go hand in hand with mitigating and adapting to climate change. More integrative approaches that consider the economic and social recovery as well as the sustainability transition are needed.
Some municipalities have developed more inclusive solutions, policies and governance approaches. Amsterdam City Council for example will be formally adopting the 'Doughnut Model', a sustainable development framework developed by Kate Raworth as the starting point for public policy decisions. It is the first city in the world to make such a commitment.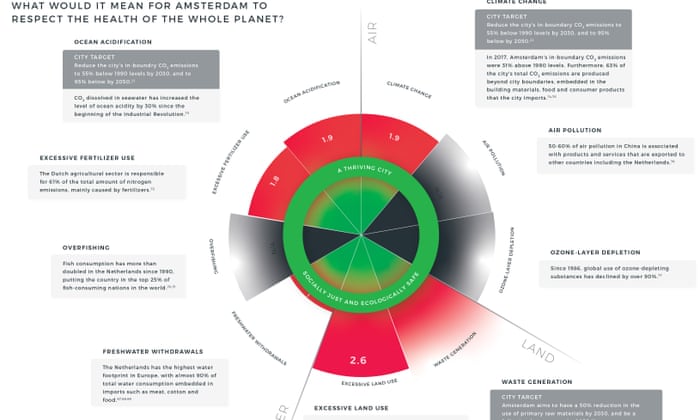 It seems that many local authorities are willing to integrate the social and economic recovery from the COVID crisis with the transformation towards a more just and sustainable society. No need to go back to the way things were before: thanks to local ambitions, solidarity and modern technologies we can address the climate and the sanitary crises together!
This blog is part of a series of energy diaries, tracing the TOMORROW pilot-cities around Europe to learn about roadmaps for decarbonisation. Watch this space for more updates...